HOME > Program summary > Greeting
Greeting
From the program director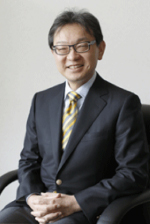 The International Joint Graduate Program in Earth and Environmental Sciences started in autumn 2016. This program aims to train graduate students at Tohoku University to foster internationally oriented researchers with leadership skills, in cooperation and collaboration between instructors at Tohoku University and those from world-leading universities. This is the second program opened after the Graduate Program in Spintronics as part of the International Joint Graduate Programs, which are planned to be offered at Tohoku University.
In academic research, it goes without saying that interaction, collaboration, and cooperation with people from diverse backgrounds lead to new ideas and breakthrough thinking. In this context, we believe that this program can contribute to fostering world-leading researchers who have unprecedented knowledge, experience, and an international network.
Graduate students selected from those enrolled in the Graduate School of Science and the Graduate School of Environmental Studies through examination of documents and interviews are required to take special courses, in addition to courses taken by general students, and to conduct research at partner universities for at least three months. Students will develop their ability to understand not only their area of expertise but also the entire earth system through these various courses. They can also receive a variety of support, including financial support and support for overseas study.
This program started in cooperation with the University of Bayreuth, Germany at first. In the near future, the program is scheduled to cover all fields related to the Department of Earth Science and the Department of Geophysics, as well as fields related to global environment material science in the Graduate School of Environmental Sciences, by promoting cooperation with other universities in Western countries. Please look forward to the program's launch!